We have a very long hedge surrounding our church and churchyard, and enjoy using the hedge in various ways. Currently you can get involved with:
#SelfieWithJesus
If you're close enough to Pennington, on your daily walk, you can take your very own #SelfieWithJesus, as you stroll past The Hedge. If you can't get to our hedge, you can download one of our zoom backgrounds. If you use mirror video, choose the reverse text background! We'd love to see your pictures, please share them on our facebook page, or send to takepart@penningtonchurch.uk
Pin the Tail on the Donkey
Our vicar forgot to crochet the tail, so we're asking for your help! You can play virtual pin the tail on the donkey, by editing your own tails into photos of the Palm Sunday donkey, and enjoy the Easter joy with scenes from the Easter story told in crochet along the hedgerow. Download our picture, and edit a donkey tail onto it. Or you may like to print it out, and play real life pin the tail on the donkey. We'd love to see your pictures, please share them on our facebook page, Tag #PenningtonDonkeyTail, or send to takepart@penningtonchurch.uk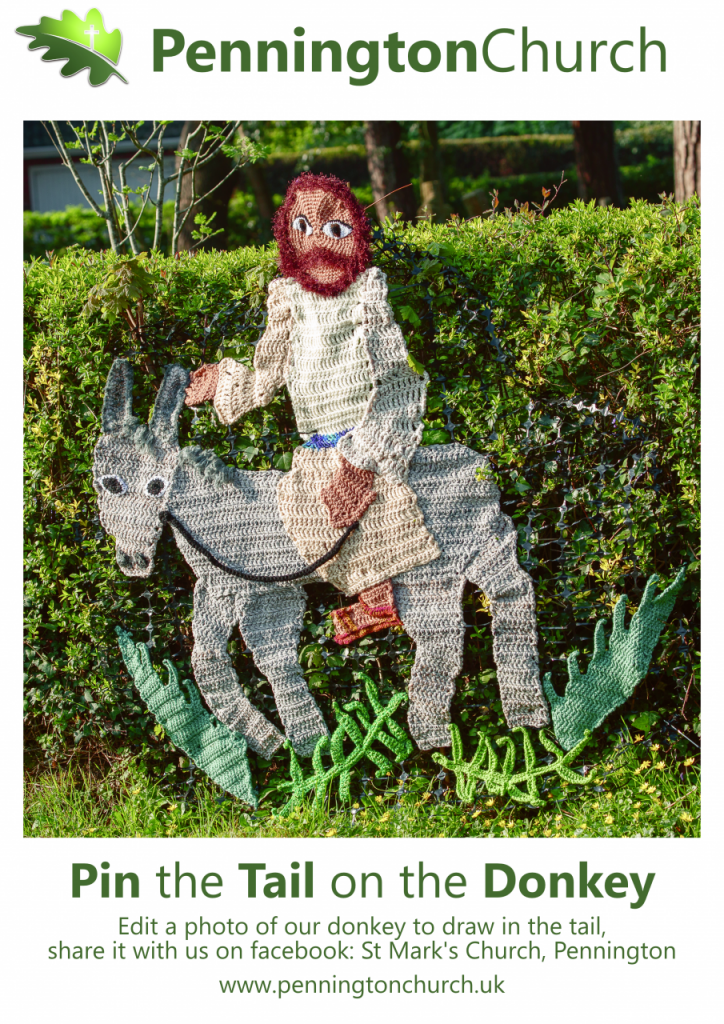 #CrochetThroughCorona …or knitting works too!
Many studies show that knitting and crocheting are great things for our mental health. In this season, where many of us are at home, we have extended our yarn plans at Pennington. We'd love you to continue knitting & crocheting items on the theme of love, hope, charity and community. You may choose to do flowers – there are some pattern links below, or be creative and create things that make you smile, items that will inspire love, hope, charity and community here in Pennington.
We will also be doing more poppies on the hedge, later in the year, so if you'd like to make poppies, we'd love to receive them.
Our local drop-off points are currently closed. (Please DO NOT take items in to the Pharmacy.) You might like to keep items at home, display on your own hedge or fence, or you can send them to
CrochetThroughCorona, 29 Ramley Road, Pennington, SO41 8HF (or leave them in the basket outside at this address).
When we're able to gather again, we look forward to creating a riotous, colourful display, a testament to our incredible community here.
Some great flower knitting & crochet links
The Great Pennington Easter Egg Hunt
We're encouraging people to create a picture of an easter egg and put it in their windows or fences, to create an 'easter egg hunt' around Pennington.
Anything goes – crayon, pencil, collage – it only has to be colourful, big and able to give a smile for those who are enjoying their daily exercise!
Why not share on Facebook too? Tag St Mark's in the photo with #PenningtonEasterEggs!
Hedge Gallery